Spider-Man by Dion Hamill – Death of Spiderman
Over a year ago I showcased a Spider-Man ACEO by Dion Hamill. He's got a new Spidey ACEO currently up on eBay. Dion used gouache on stiff quality illustration board for this piece. If you like it, bid high and bid often.
Death of Spider-Man
On another note, I have just completed the Death of Spider-Man story arc from Ultimate Comics : Spider-Man. After this arc, it sets the stage for a reboot of the Ultimate universe franchise.
Spoiler Alert :
Will contain plot points. Do not read further if you do not want to know the ending.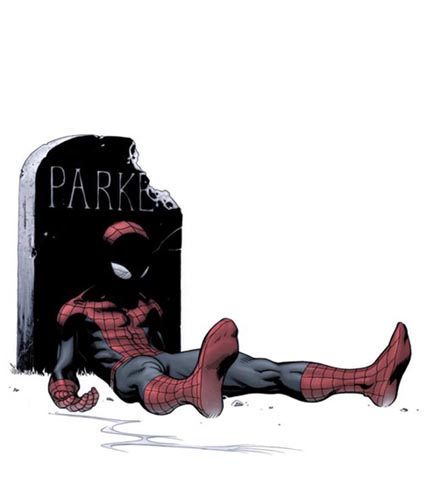 I still find it hard to believe that they pulled the trigger (but metaphorically and literally). Whilst it's good to send Peter on a heroic finish defeating the Green Goblin and ensuring the safety of Aunt May, it still felt very sudden. I believe there was still a lot of stories to be told and the direction that Peter was going to receive Ultimates (Avenger) training was still an interesting point to develop.
I do enjoy that this Ultimate universe can push the boundaries but I'm worried that the reboot will lose the essence of a character that the readers have grown to love. The story was valiant and it showed Peter standing up with his foes while slowly bleeding out from an earlier injury. The ending and anguish for Aunt May and Mary Jane brought emotion into an otherwise bleak story.
Posted: July 17th, 2011 under art, comic, Featured Artist.
Tags: 160, Bendis, cbr, cbz, Death of Spider-Man, dion hamill, New Avengers, Peter Marker, review, Spide-Man, Ultimate Comics, Ultimates