Spying with Lana – Sean Harrington – Mysterious Brunette – 06
Action! Action!
Everyone loves action.
Only 2 more pages to go!
This page was actually very easy to write as there wasn't much dialogue involved. I left a lot of the actual angles etc. to Sean as he can do a fantastic job with action sequences. I guess it depends on the artist on how much description to provide, some want more direction, some prefer the freedom.
All completed pages will be collated in the below link :
http://sigmatestudio.com/spying-with-lana/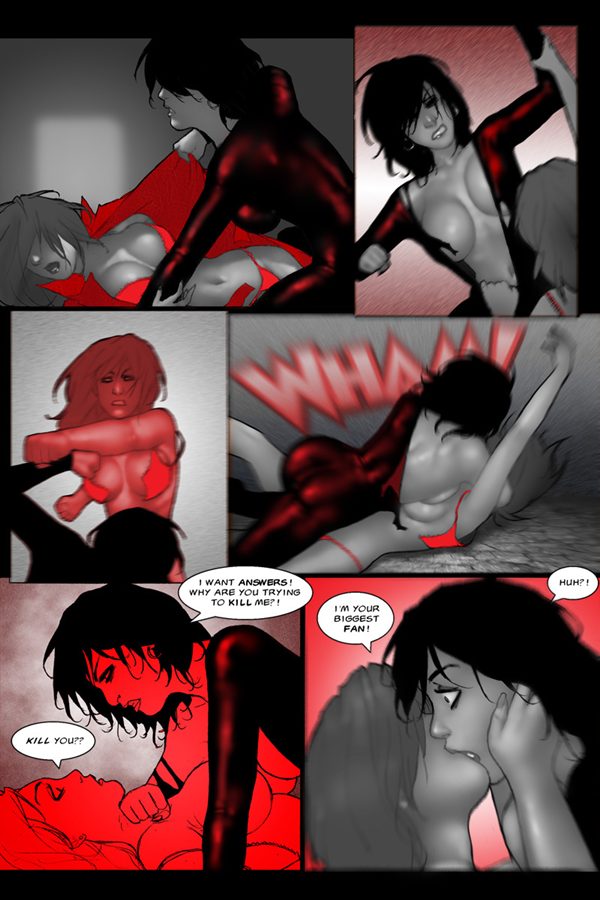 Synopsis :
The fight between Lana and the MB.
Less of a fight than the 2 of them ripping each other clothes off.
Panel 1 –
MB is wearing nothing but bra and panties under the trenchcoat.
Lana rips her bra in 1/2.
Panel 2 –
MB retaliates by ripping the zipper section of Lana's leather jumpsuit.
Panel 3 –
MB tries to throw a punch but Lana ducks under the punch.
Panel 4 –
Lana tackles MB to the ground after ducking the punch.
Panel 5 –
Lana : I want answers. Why are you trying to kill me?
MB : Kill you? I'm your biggest fan!
Lana : Huh?
Lana has MB pinned to ground. Hand across MB's neck.
Panel 6 –
MB embraces Lana and gives her a passionate kiss.
Posted: December 19th, 2010 under art, comic, Featured Artist, Website, Writer.
Tags: artwork, Mysterious Brunette, sean harrington, sexy, spy, spying with lana