Spying with Lana – Sean Harrington – Mysterious Brunette – 05
Unlike the initial pages, there is very little dialogue on this page. The backstory was already explained so I think it was important to get straight into the action. (FYI – The story was scripted for 8 pages so it's time to build up to the climax!)
All completed pages will be collated in the below link :
http://sigmatestudio.com/spying-with-lana/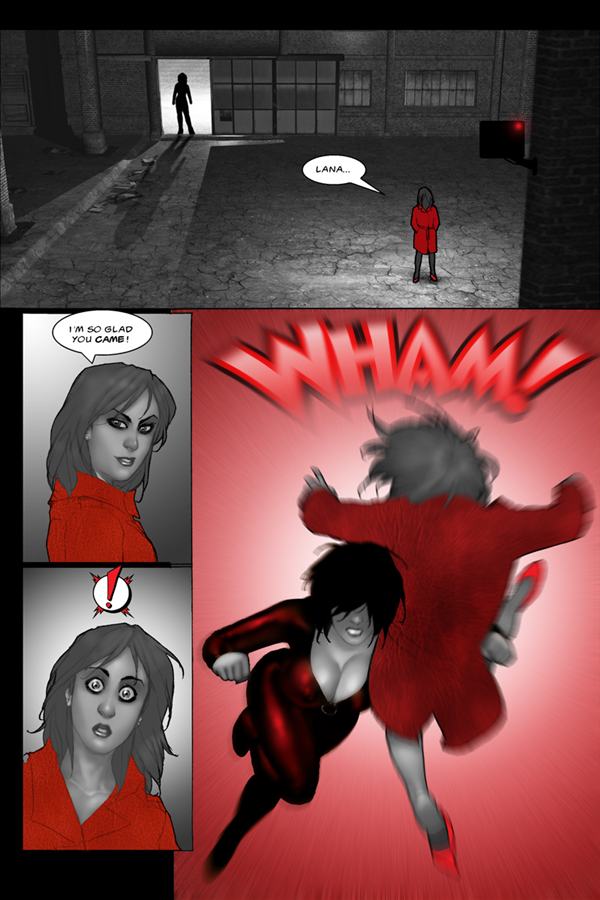 Synopsis :
Meet an abandoned warehouse.
Fight with mysterious brunette.
Panel 1 –
Top view giving general layout of the warehouse
Caption – "At the abandoned warehouse"
Lana is walking in from the front doors. MB is standing in the middle wearing a trenchcoat (as per Page 2).
In the foreground the CCTV camera is facing Lana.
A small red dot on the CCTV indicates it's recording.
Panel 2 –
MB – I'm so glad you came!
MB turns around to face Lana.
She's smiling.
Panel 3 –
Small panel. Focus on the MB's face. From the smiling face, it's one of horror now.
Panel 4 –
Why MB is horrified should be evident now. Lana has leapt and about to crash tackle MB.
Panel 5 – (Money Shot Panel)
Lana has tackled the MB. This should the big panel of the page.
Try to keep as much motion in this frame as Lana tackles MB to the ground.
Posted: December 12th, 2010 under art, comic, Featured Artist, Website, Writer.
Tags: artwork, Mysterious Brunette, sean harrington, sexy, spy, spying with lana