Artwork of Micah Gunnell
Micah has some of the most amazing artwork I've seen. He's showcasing a drawing of UFC Fighter B.J. "The Prodigy" Penn. Although he normally doesn't use a lot of reference in my comic work, he's been doing a series of figure studies working from photos, and using them to practice some different techniques that he'd like to incorporate into my comic work in the future. Micah describes each of the steps below.
Step 1 :
Block in the the general area taken up by the figures, and then the simple shapes of the figures themselves within that space.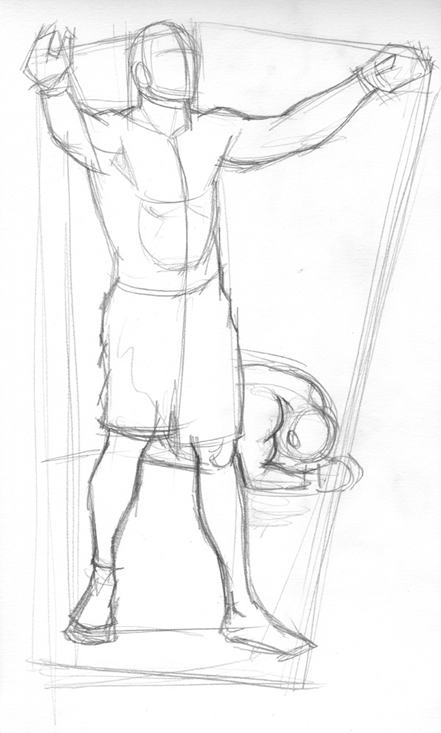 Step 2 :
Roughly establish values to describe the lighting and shapes.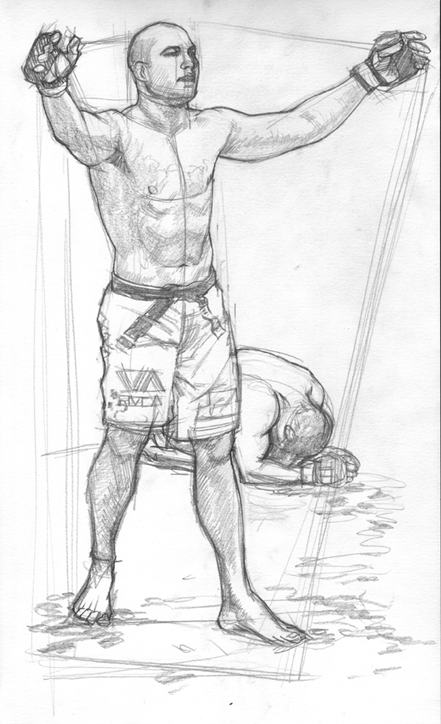 Step 3 :
Using my Raphael #2 I pick out the areas of the figure that are darkest and also outline the majority of the central figure. I don't use the brush for the background figure because I want him to recede.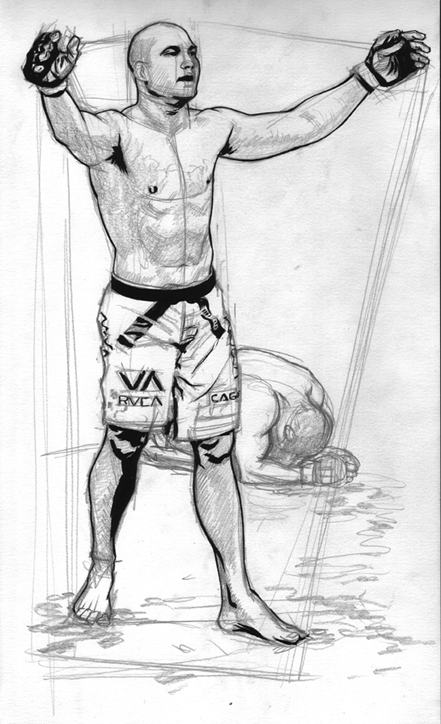 Step 4 :
Using the same brush, I add in mid-tone values with a medium tone ink wash.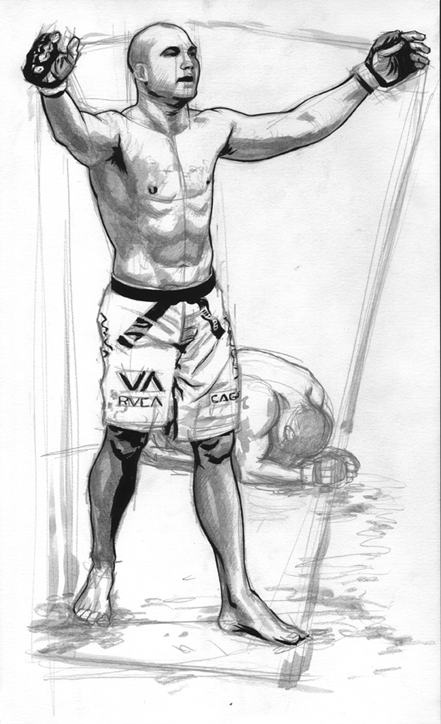 Step 5 :
I add more value with line. For this I used a dip pen equipped with a Deleter nib.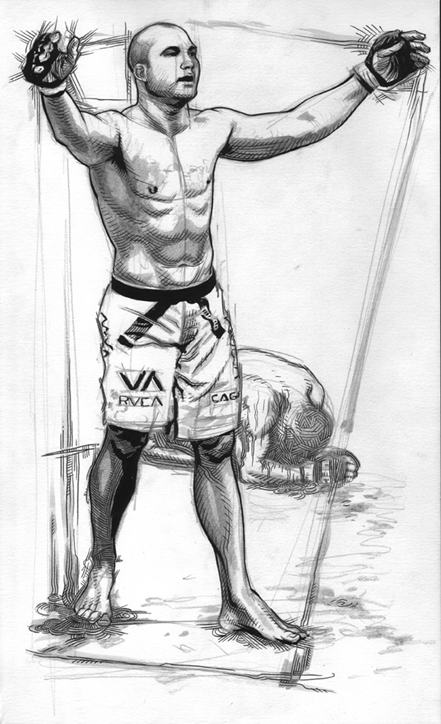 Step 6 :
Add effects with a toothbrush using a darker inkwash and also some white paint.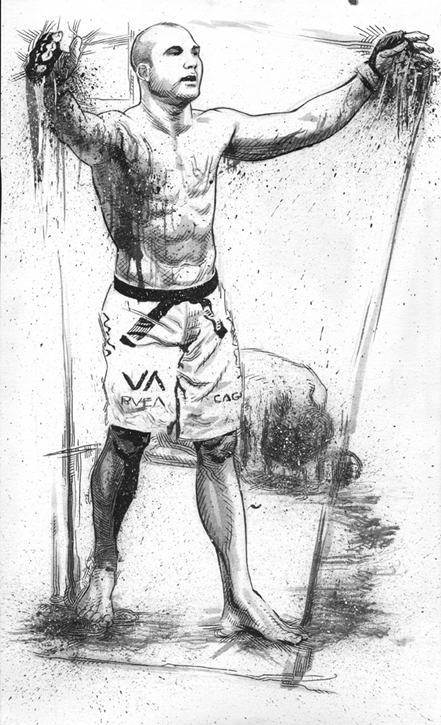 Step 7 :
Added a color gradient with Photoshop CS2 and also used a texture featuring various Kanji.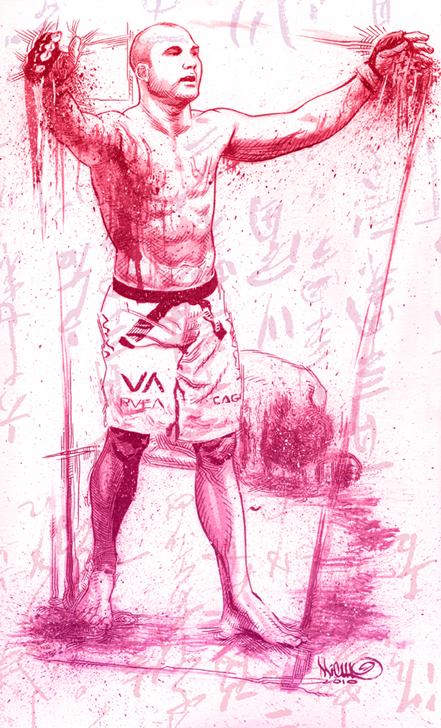 So how long have you been drawing?
I've been drawing my whole life and always planned to be an artist, but I didn't hone in on any particular industry until I read my first X-Men comic when I was 14. As soon as I read it, I was hooked! Right then and there I decided to pursue a career in comics. When I was 23 I attended the Joe Kubert School of Cartoon and Graphic Arts, and after a year of hard work many people were telling me I was ready to make the jump to working professionally, so I decided not to return for a second year. The timing really seemed to be perfect, because that summer I was lucky enough to be chosen to participate in an online contest called Comic Book Idol, during which Aspen comics noticed me and asked if I'd like to submit some work to them. After a few submissions, they flew me to the San Diego Comic Con and decided to hire me, and I've been working for them for the past 5 years.
Besides drawing, what else interest you?
I have a fairly wide range of interests, ranging from of course art(of all kinds), biblical study and comparative religion, film, MMA, working out, playing sports, hanging out with friends, etc. I don't have a lot of time outside of drawing comics every day, but when I do, these are the things I like to spend my time on.
This is always a tough question for most artists but how would you describe your artwork?
A work in progress! Someday I would love to be known as a versatile artist. One that is able to tell a variety of stories and tailor his style to fit the mood of the book. One thing I pride myself in is my ever-evolving style.
What advice would you give to any new artists?
In my opinion, no successful artist can teach themselves. All of them have studied from other artists and of course from life, whether it be in a school environment, or from looking at books on the subject, we're all building on the experience and know-how of others. Most of my learning was done on my own until i attended a few drawing classes at a local community college, then attended the Kubert school for one year. Of course, when I moved to Los Angeles to work for Aspen, Michael Turner, Koi Turnbull, Marcus and I were all working in the same studio space. It was a great environment to start out in, and we all learned a lot from each other.
Who do you consider your artistic influences?

I draw from a number of diverse influences, ranging from Golden Age illustrators(Arthur Rackham, Franklin Booth, J.C. Leyendecker, Edmund Dulac), Manga and Anime (Ninja Scroll, Tatsuyuki Tanaka, Takehiko Inoue, Capcom Design Team), European comic artists(Claire Wendling, Moebius, Sergio Toppi, Carlos Meglia), and of course artist that draw American comics (Eduardo Risso, Mike Mignola, Travis Charest, Joe Madureira, J. Scott Campbell). That's a lot of names, but there are many, many more that I look at and consider to be inspirational to my work.
What works of yours should we be on the lookout for?
In the past 5 years I've completed Soulfire: Dying of the Light(6 issues plus a #0 issue), Shrugged(8 issues plus a #0), and am currently working on issue 5 of Dellec, which is a 6 issue series. I've also worked on many of the online stories for NBC's Heroes tv show, most of which have been collected in hardcover graphic novel format published by DC comics. In addition to my comic work, I also had the opportunity a few years ago to work on EA's DefJam Fight for NY: The Takover, for PSP.
Thanks for your time (and the incredible breakdown)!
For more on Micah check out his :
To contact him his email is micahgunnell [at] gmail.com
Posted: June 16th, 2010 under art, comic, Featured Artist.

One Response to "Artwork of Micah Gunnell"