Cookie Monster on Google Homepage
Why is Cookie Monster on the Google homepage today?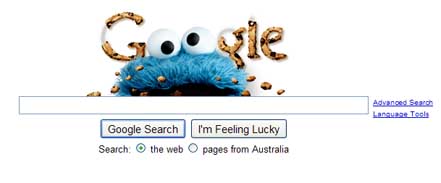 According to gizmodo, today is the 40th anniversary of Sesame Street. That doesn't quite explain it though. Back in 1982 (16 years before Google.com), Cookie Monster sang the Google song. Don't believe me? The proof is in the below video!
To quote Kermit the frog :
"Cookie Monster, one of the world's finest googlers"
Cookie Monster has always been one of my favourite characters, I've even seen him running a cookie franchise! Here's to you Cookie Monster.
Posted: November 6th, 2009 under Movie TV, Website.
Tags: cookie monster, google, sesame street
12 Responses to "Cookie Monster on Google Homepage"