Step by step Hulk by Lee Sargent
From yesterday's post, Lee Sargent is providing a step by step breakdown of his work. From Brisbane Australia he's an an absolute gun Asteroids player on the Atari 2600.
Preliminary Work :
I found a shot taken from the front, in the rain, focusing directly on the hand and face that I thought might be interesting enough. My first job was to sketch out where everything was going to be on the page. I like to work within panels when I'm illustrating, especially when doing a comic book character because it is a classic convention of framing in comic books.
Within the frame I used a compass to put the locations where the different parts of Hulk were going to be and to give some small amount of relation. I like to work pretty loosely and freehand but find it handy to grid stuff out on a page.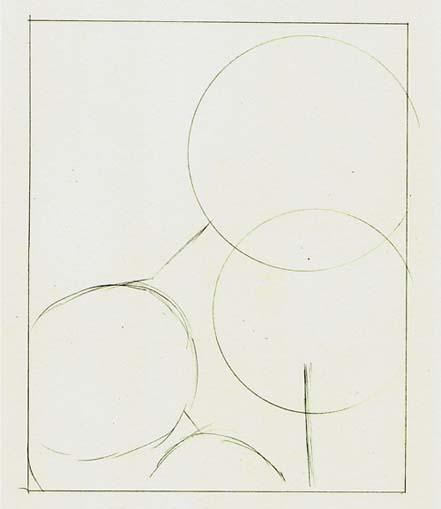 Once the pencils are done I like to grab a 0.5 pen and put all of the basic lines in, at this stage I generally avoid thickening any of the lines even if I have already with the pencils. I want a bare line frame to build up and often I'll erase some of the more over worked pencil lines out to give me a little more freedom to build those lines ups.
I'm a huge fan of bold strong lines and will more often than not go a little overboard with them. I use a small or medium copic multiliner brush pen at this stage because whilst giving up a little of the control it does give me some broad spontaneous lines which I love anyway. There are sections here that will be filled in with black so I leave the line work alone, specifically in this example the hair and eyebrows.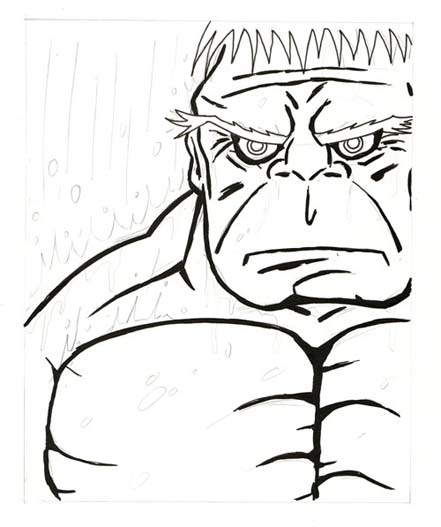 I hate using markers to colour large areas but of course there is no choice since this is my chosen media, I sometimes envy the digital artists in these cases. The trick is to minimise the amount of lines that will appear as you colour the large areas. I don't have too much trouble with this as I keep fairly short strokes and a little consistency in the application. The trouble begins when you are going around things like the water drops etc. Often they'll come up quite a bit darker because you took your time getting those bits right. It's all a matter of blending at that stage, and patience.
I then use a darker marker to highlight shadows and folds. Sometimes I'll use various shades of gray, in this case I had three darker shades of green above 'grass green'.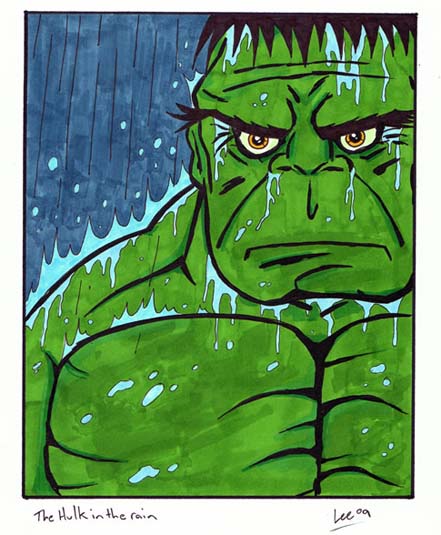 I also leave the water and the rain alone as I'll use different pens for this. By now I've got a pretty good idea if this illustration is going to work or not and using the bigger brush strokes gives me the opportunity to correct some mistakes, the eyes in this case were fixed by ignoring the underlying inked lines.
Thanks for the fantastic walk through. It's always great to see step by step the thought process of an artist. Anyway tell me a bit about yourself.
I'm married with a one dog, one parrot and some fish. I am a student of popular culture, specifically the comic book medium and its spin offs into other media, giant Star Trek geek as well as most other forms of science fiction, I enjoy also reading mythology which again ties in with my focus on pop culture. Obviously comic books are going to be a big part of my life, drawing/illustration is another thing that I love and do to unwind.
I really hate literary snobs, people who dismiss popular culture as fluff or not as important as the current darling of the literary world. There is a pretentiousness there that something is only important if the elite endorse it and something is without value if the general population enjoy it. I just dislike that way of thinking and I think that popular culture icons are beginning to smash through the barrier, I saw on the platform at the train station a woman dressed in business attire reading Philosophy and Metallica which I think is fantastic.
That would be a very interesting mix of heavy metal and philosophy! How would you describe your artwork?
LOL, I wouldn't. Comic book style of course, I don't sketch traditionally, I prefer the comic book look and feel. During high school I ran into trouble in art class for not deviating my style. I never really understood why I couldn't just draw in that style but I get it now and wish I was a little more receptive to exploring other styles and media.
I like drawing unaided, so without rulers and guides so it is rare that you'll see a very straight line in one of my illustrations, I like the shakiness that freehand creates although I admire the artists who do have those perfect circles and straight lines, it just isn't me though.
So who would rate as your artistic influences?
Edvard Munch and not just for his 'The Scream' although that is a brilliant piece but the despair found in his other work has always influenced my thoughts when portraying superheroes who are usually seen as victorious or happy in dark places. Lichtenstein is another influence in that he brought comic book art into the mainstream, I really like when doing an illustration is to create a piece that could be part of a greater page or frame, of course his blatant use of others work without credit is a grey area in ethics for me.
As far as comic book artists I have to say that Norm Breyfogle was a very early influence on me, I still am yet to encounter an artist with the same kinetic feel to their character, his run on Batman was very mind shaping for me. More recently I've been going old school with the artists that I absorb the most from, Kirby (the king) is just a revelation, I love Darwyn Cooke's work and Bruce Timm. My favourite artist and the one artist that I am most jealous of has to be Tim Sale and you can see the influence of his amazing work in the Hulk illustration that I did for this site, specifically the eyes and brow. I'm completely convinced that this is the way the Hulk looks!
Norm's work on Batman is still the definitive Batman in my opinion. I got to meet Tim Sale when he was down, even getting a personal sketch! Thanks again for your time and a wonderful showcase piece!
Be sure to check out more of Lee Sargent at his blog :
http://quityourdayjob.com.au
Posted: August 20th, 2009 under art, comic, Featured Artist.
Tags: hulk, lee sargent, tutorial
3 Responses to "Step by step Hulk by Lee Sargent"