Spider-man & Mary Jane by Gerard Delatour II
Brooklyn born and bred Gerard Delatour II (a.k.a spidertour) recently graduated master's degree in mechanical engineering. Still a video game fanatic and also does the most amazing artwork. The showcase piece is the memorable kiss from Spider-man I.
Pencils :

Preliminary :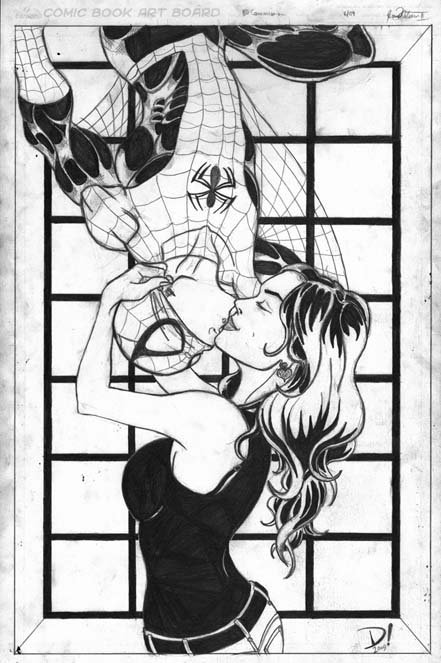 Final :

I have to ask . .
How did you get the nickname "spidertour"?
Back in high school, some friends of mine took to calling me "spidertour" to mock my fanatical love of Spider-Man (and making a play on my last name), and the nickname stuck as I started to participate online more.
Are you a big comic fan?
I'm a big comic book fan — specifically, of Marvel Comics, and even more specifically, of Spider-Man. I became a fan in the early 90's, when I was a kid, thanks primarily to the great cartoons of that era (X-Men, Spider-Man, and Batman: The Animated Series). I still have a love of hand-animated films, like the Disney masterworks.
About your artwork . .
Tell me about you style.
My artwork is definitely of the cartoonish variety. Like I said earlier, I'm a big fan of hand-drawn animation, and I think that shows a bit. When I started drawing more seriously in high school, I tried to emulate my favorite artist, John Romita Jr., but my work really changed when I first got exposed to Mike Wieringo's work on Fantastic Four. He was great at balancing traditional comics sensibilities and a cartoonish, animated look, and I've adapted my work to that ideal ever since. I've also been influenced along the way by Mark Bagley and Casey Jones. I like many artists, but these four have influenced my art the most.
Besides studying Engineering, did you do any formal study in art?
I'm mostly self-taught. Like everybody, I started by trying to copy my favorite artists (with varying success). I was in a cartooning club in high school, where I picked up a lot from the faculty moderator, Renzo Ventrella. Other than that, I haven't had any formal training. I've tried to pick up techniques along the way, and in that way the learning never ends.
Thanks for your time.
Wish you all the best and amazing spidey piece!
Gerard isn't available for commissions although you can check out more of his art at :
Posted: July 22nd, 2009 under art, comic, Featured Artist.
Tags: artist, gerard, mary jane, spider-man, spiderman
6 Responses to "Spider-man & Mary Jane by Gerard Delatour II"