Valentine's Day with Mike Crichlow
On this special day, Mike Crichlow provided this site with a Valentine's Day image. Lucky Pookie.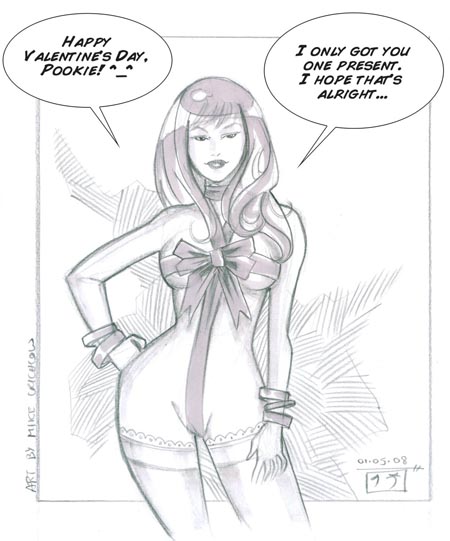 For any aspiring artist, Mike's story is a must read. It's a difficult industry to get into but with perserverance and hardwork, anything is possible. Thanks Mike for the telling of a truly inspirational life story and all the best for your future endeavours.
Where are you from originally?
I was born in Guyana (South America) and then moved to Barbados at the age of one. I stayed in Barbados until the age of nine, and then moved to America (good 'ol US of A). I lived in Maryland *really* close to Washington DC (go Redskins!) from nine to twenty-three years old (and as such most of my personality was formed during this time – "Don't be a bamma, yo!"). Moved back to Barbados for four years working as a teacher and in August 2008 moved to California to pursue being an artist full-time. So far it's been pretty good as I'm currently working as a comic book and storyboard artist in Pasadena, networking like crazy and constantly seeing people way prettier than myself.
When did your love affair with comics begin?
I fell in love with comics at about the age of fifteen. I just remember getting paid an allowance and cycling to the local comic store to spend ALL the money as fast as possible on comics. Just loved it. I remember how well Catwoman was drawn particularly, but I didn't start memorizing artists or creators until high school.
Haha . . I wasted a lot of my allowance on comics too. What happened in high school?
While in High School, I met a few like-minded people and we put together our own comic of sorts – The Outlet. Man, those were good times. We actually felt like real superstar artists! Once the book was done, I'd be walking down the hallway and just get stopped by random people (especially cute girls) and be asked to sign the book. All of a sudden, the nerd that nobody noticed was a superstar signing autographs. It was a taste of stardom, and respect, the likes of which I'd never felt before . . . and is probably one of the reasons why I'm an artist today.
I struggled for a LONG TIME to decide to do comics full time. I love comics, but felt that being an artist was just a dream. The market was too small and selective . . . and I'd have to get WAY better. I mean, in a world of Jim Lee and Joe Maduriera, who would come to *me* to draw something? I struggled horribly from age 22 to 25, and just made the decision (I can actually remember the day) that I was going to get into comics or die trying.
Did you consider art school?
Or perhaps other formalised training?
I've often thought about going to art school. I've never been, but I think I would learn a lot from the experience. What I would want is a mentor to teach me "the ways of the master", not a teacher with limited office hours. What I DIDN'T like is the fact that the teachers are there primarily to keep you in school. They not going to tell you that you suck, they want you to stay! So, I honestly couldn't see myself paying TONS of money to go to a school where my art would be on the back burner of "get good grades". I've always thought that it was ABILITY that was important, not so much a piece of paper from a school. So, I gave myself school… and studied like my life depended on it.
I started studying anatomy way into the night, like 2 or 3 AM usually. I started posting my stuff on forums all over the place, just trying to get my name out there (the internet is the most brutal yet loving teacher, since anyone can say anything about your art). Eventually some writers noticed my stuff and asked if I was interested in drawing books for them. This is how I got started, got practice working from a script, dealing with an editor and stuff like that. No paid work yet, but I was eager for the practice. I learned SO MUCH working on my first book. I was working full-time and going to school in the evenings when I drew my first comic. As such, the entire comic was drawn between midnight and 4 AM. Ha! I called it my 'Batman' shift. I'd stumble into bed and get up at 6:30 AM to get to work for 8:15. This went on for months.
All the thoughts and struggles you can imagine went through my head working on that book: Is this supposed to be this hard? Why am I working so hard on something I'm not getting paid to do? Is anybody going to buy this after all this work? Where is all this going? Am I wasting my time? If I was going to make it, wouldn't I be better by now? All that stuff… and more. But I just kept on drawing.
After all the hardwork and late nights . . what happened when the book was released?
When the book came out, it was an instant success. It sold out immediately and people were asking for more. It was such a relief after all that work. Between work, school and church I drew as much as I could, and put out my first sketchbook 'Shy Girl and Friends: Volume 1″ in early 2008. It didn't do nearly was well as the comic, but taught me a lot. For example, the audience for sketchbooks is not the same audience for comics. I thought they were one and the same. Sketchbooks are much more of a "specialty" item. Art collectors buy sketchbooks. Anybody can buy comics. So, all in all, it was a good learning experience, and the sketchbook did open some big doors for me. I mailed some to my friend in CA to take to ComicCon (I'm still in Barbados at this point) who got some into the hands of editors at Viz as well as other comic publishers. They said that they liked it, and opened doors of communication heretofore closed – Email and such. For that, if nothing else, I'm glad I did the sketchbook. (and I'm working on a second one right now.)
What was your next step after that?
So, I moved to California on August 27, 2008, with nothing but two bags of clothes and a dream to draw comics. Although I knew no one, I just jumped in and started talking with people. I was scared, but I didn't fly all the way out here to fail. I learned of a networking party, with lots of Hollywood writers, producers and directors and such. It cost $40 to reserve a seat (which is TON if you're now starting over in a new country) but I paid it and went.
I was SO SCARED in there, but I just introduced myself and tried my best. Tons of people actually came to me, which was awesome (since sometimes I was too scared to go talk to other people). I got eleven business cards that day. I emailed everyone back with my info and work. Of those, three responded to me and ONE actually wanted to meet to talk about various projects he was working on. I met with him, he liked me, and I've been drawing comics and storyboard stuff for him (for Universal Studios) ever since. So, I've been making a living from the money I make drawing comics for a little under three months. I tell ya, life is a funny thing.
Would you consider now that you've made it?
No!!!! I still want to get so much better, it hurts. I wish I could draw as easily and gracefully as a lot of these other guys out here (and what am I going to do once this project is finished?). I'm still studying anatomy and developing my style all the time. I'm *still* trying to figure out exactly what I want to draw like. Sometimes I feel realistic, others I feel cartoony. But I like pretty girls, so there's the constant for you. Ha! What excites me the most is the future. If I keep drawing and studying, what would I be able to draw like in 5 years? How much can I learn? How much better can I be? Those are the questions that drive me. God is faithful. At the end of the day, you just gotta keep moving forward… and see where it takes you.
That's an incredible journey you've been on!
One last question . . why artists do you use as inspiration?
Wow, the list is so long I don't know where to begin. Here's a few of them: Carlos Pacheco, Bruce Timm, Joe Maduriera, J. Scott Campbell, Jose Luis Garcia Lopez, Satoshi Urushihara and tons of other anime guys in there too.
Thanks again for your time.
Wish you all the best!
Be sure to check out Mike's deviant art page or website to check out more of his work.
Deviant Art :
http://michaelcrichlow.deviantart.com
Website :
http://mikecrichlow.com
You can also purchase his sketchbook here :
http://www.lulu.com/content/2938524
Posted: February 14th, 2009 under art, Featured Artist.
Tags: girl, sexy, shy, valentine
8 Responses to "Valentine's Day with Mike Crichlow"