Negative Cowgirl by Scott See
Scott See is a very talented 21 year-old artist from Las Vegas. For his showcase piece, Scott provided this amazing Cowgirl piece in negative lighting. The white outline juxtaposed against the black background really grabs your attention!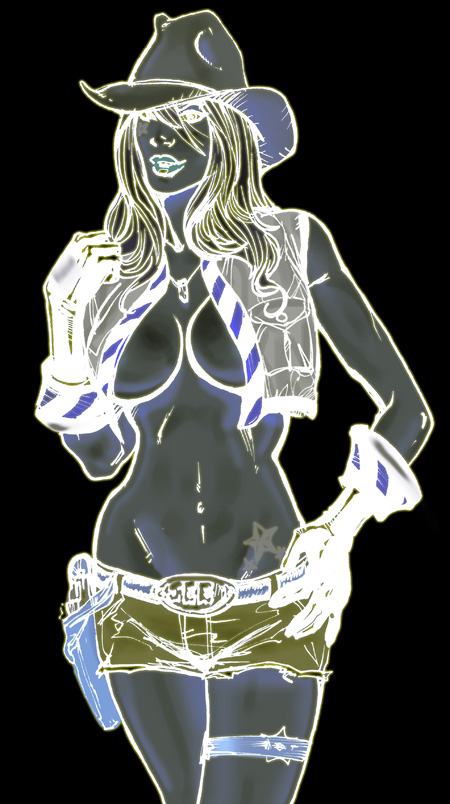 What do you do for fun?
I watch movies for fun and that inspires me to draw especially seeing movies like Dark Knight and Ghostbusters.
I know this is a difficult thing to ask any artist but how would you describe your style?
My style of art is hard to describe because I try not to have a style. I want to be able to do so many different styles that I can do the one the fits the piece I'm working on. I see a lot of great artists with only one style and that to me seems sad. Leonardo da Vinci once said "If you are good at one thing but lack in the rest then you're really not good at all". I really look up to him. He was good at everything.
I've seen some of Leonardo's work in person when I was travelling around Europe. I have to agree with you that his stuff is amazing! Anyway, how did you get into illustrating?
My dad went to Art Center and as a kid I would correct his homework. He'd laugh only to have the teacher tell him the same thing. I'm mostly self taught. My dad taught me a trick or too but ever since I was 3 you keep a crayon away form me. I've been drawing ever since. The one Artist to really get me going was Akira Toriyama.
Thanks for your time and sharing your artwork!
As a little extra Scott has also provided another of his full colour works. This one is of one of Batman's femme fatale, Poison Ivy. For any questions or commission requests please email scottssketches [at] yahoo.com or check out his website to see his other works http://www.scottssketches.com.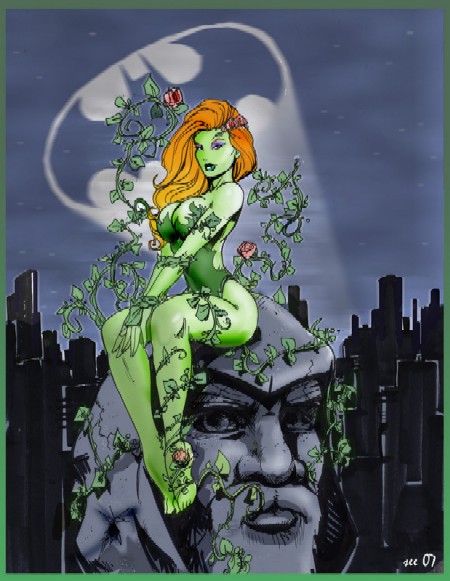 Posted: February 8th, 2009 under art, Featured Artist.

5 Responses to "Negative Cowgirl by Scott See"