Staunch Ambition #2 – Kickstarter – Review of Issue 1
Link to Staunch Ambition Issue #2 Kickstarter
Last April, Brian launched the first issue of Staunch Ambition which was successfully funded. Almost a year later, he's now crowdfunding the second issue to get the funds for completion.
(https://www.kickstarter.com/projects/1353079473/staunch-ambition-issue-2-a-supernatural-science-fi.)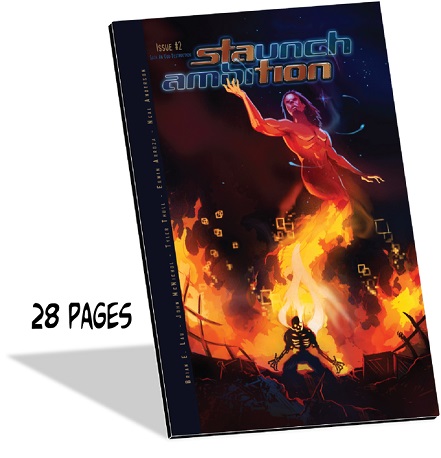 Story :
Out of the enlightenment, both science and technology are born anew. As mankind continues to advance in scientific knowledge, breakthrough upon breakthrough compound, exponentially. Through this new technology, mankind is able to transcend its physical limitations by passing through the thought dimension and entering the supernatural.
Review of Issue #1
I read Issue #1 and it's amazing artwork (with a painted quality to it!) combined with an interesting premise. The bulk of the first issue explains the current world state before leading to a possible suicide bomber. It ends with on a cliffhanger with an important discovery. (No spoilers)
Firstly to the interior artwork of Issue #1. Wow. Seriously wow. Most of the panels resemble paintings. Amazing work by Erwin J. Arroza. I would liked to see Erwin do all the pages but there are 2 other artists doing the remainder of the works. It does feel a little disjointed moving from one style to another. I understand the writer's purpose for the different artist was to differentiate the starting dream sequence with the rest of the story.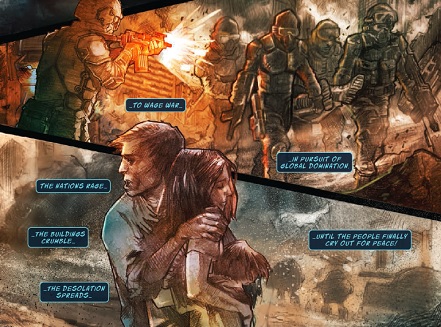 Storywise, it's a interesting build up with the initial pages spent in exposition. It definitely grabs your attention and I am curious to see where the story will eventually lead. With only one issue, the hook is there and it's hard to judge a story without knowing where it ends.
I had the opportunity as well to have a quick chat with writer Brian Lau.
Thanks for your time! After Issue #1, which direction are you planning to take Issue #2?
More action!!!
"During a horrific day at work, Rielle, a lead supervisor on The Ambition, is forced to deal with a rogue, suicidal proctor clone who sets off a series of dangerous events that escalate out of control. Don't lose faith my friends, things could always be worse–as in, things get "all-kinds-of-ways" worse."
At the beginning of Issue #3 which we have already started we will get into some emotionally driven character backstory and I'm loving it!
How many issues do you have planned for the first story arc?
I don't know how many issue this will turn out to be yet. There are just too many variables in play. I have the basic plots and story ideas all in my head but then I take those and work with my co-writer, then that goes through the artist, both contributing so much to the story that we may add of subtract ideas as we go. It's kind of organic.
What themes are being explored in this issue?
Issue #2 is dealing with the theme of epic action and how the characters will each deal with imminent danger. We also get a glimpse into the plans of a certain pain in the ass character who was responsible for this escalating threat of death and destruction.
Posted: March 9th, 2017 under art, comic, Featured Artist, Website.
Tags: Brian Lau, Erwin J Arroza, kickstarter, Staunch Ambition