Project Tabby – Supanova Sydney
Click for Epilogue – Page 2
Tabby will be making its first comic convention appearance at Supanova Sydney this weekend from Friday 19-Jun-15 to Sunday 20-Jun-15. There will be a Sigmate Studio delegate on the Friday however you'll be able to get Tabby autographed from me on Saturday!
Where will Tabby be?
Tabby will be at A021 & A022 on Table 5 with Sydney Comic Guild. Please drop and say "Hi"! It's so exciting to have a table displaying my first published book. Looking forward to meeting everyone on Saturday!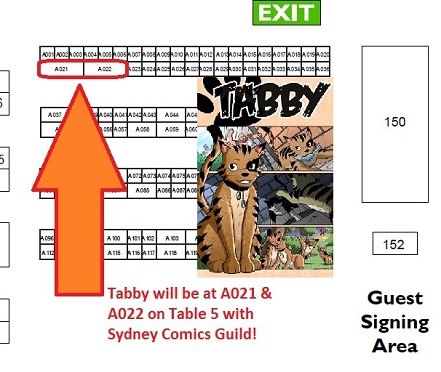 Posted: June 16th, 2015 under art, comic, Featured Artist, Website, Writer.
Tags: Amazing Spider-Man, artwork, Avengers, Black Cat, black widow, Daily Telegraph, Felicia Hardy, fish market, graphic novel, Justice League, Manly Daily, marvel, newspaper, P. R. Dedelis, Play Time, roughs, sexy, spider-man, supanova, sydney, Tabby, wolverine
One Response to "Project Tabby – Supanova Sydney"