Project Tabby – Finished
Project Tabby is now over after its 50 day run in Kickstarter! It finished up yesterday just over $3100 in pledges from 100 backers! The support from everyone on this project has been truly humbling and I really can't thank everyone enough. It's still a surreal feeling to actually reach this point.
Tabby as a story has been bouncing my head for a quite but I have to thank Judy Teh for making me finish writing it! Big thanks to P.R. Dedelis for his awesome work from translating words on a page to brillant sequential artwork. If I remember right, I interviewed more than 100 artists before deciding to go with him.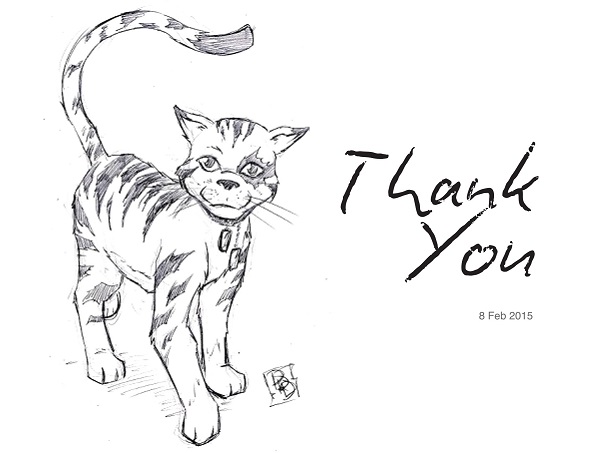 The Wall of Fame is currently under construction. Everyone who has pledged will have their name added to the Wall of Fame.
I'll add some special "Thank You"s in this page as well but to everyone who gave me advice on the Kickstarter, comic creation or just well wishes, it was greatly appreciated! It was fantastic to have so many people believe in the project and sharing the link around to help build the buzz around the Tabby.
Thank you once again to everyone who came along on this ride to make Tabby a reality! I have other projects in the works and will hope you can stay on the ride for those.
Posted: February 9th, 2015 under art, comic, Featured Artist, Website, Writer.
Tags: advice, artwork, funded, kickstarter, P. R. Dedelis, Tabby, Voon Ann Chong