Abandon All Hope by LA Keim
I was provided a 7 page preview of Abandon All Hope (AAH) written by LA Keim. Comics are an interesting medium and a trap many writers fall in is adding too much narration. This was not the case for AAH though, with the writer letting the artist (show don't tell!) build the scene and the story. As a preview, it leaves a lot of questions unanswered and I am now curious at what happens next!
Cover :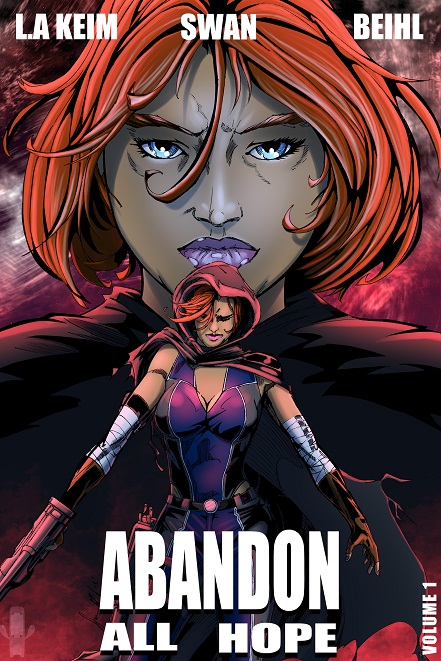 The preview alternated between 2 scenes, a grassy meadow in bright sunlight juxtaposed with a night time invasion by an alien invasion force. The artwork is consistent through the preview with some of the action panels being the highlight. There was no issue with the colouring for the daylight sequences however I would have the preferred the night sequences to be darker with a lot more shadows.
Overall it's an excellent start to AAH, setting the scene and the background for the story to come.
Sample interior :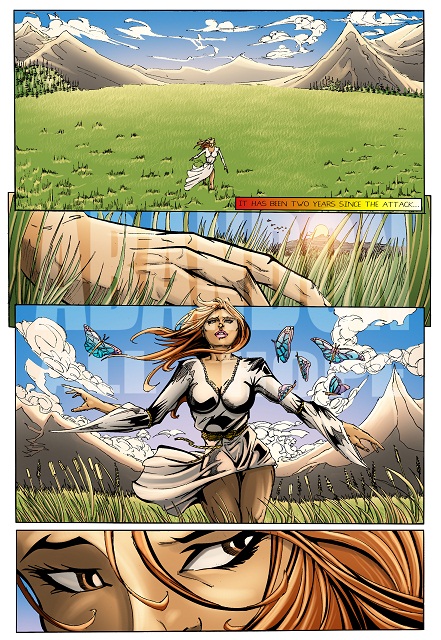 Sample interior :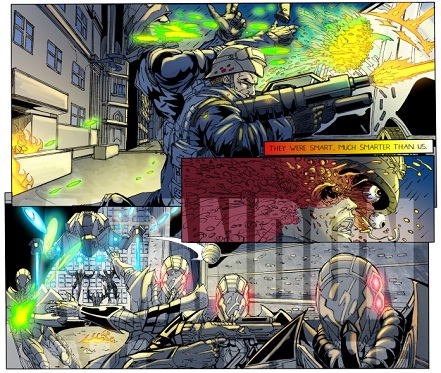 Thanks for the preview and your time to answer more questions about Abandon All Hope. What's happens next in the story?
The story revolves around Alejandra (woman in the first page), a cloned soldier forced to find humanity in a world now inhabited by the Alien race that attacked it two years ago. Earth has become a lonely post apocalyptic wasteland. Alejandra travels through what is left, facing all kinds of evil. After the death of each clone another is produced through an advanced cloning station and thrown out like a human vending machine, sent back to where the last one died. With the cloning station experiencing troubles, it stops production of new clones and with only a few left it is a race against time and death to complete what she has been created to do.
The story is not just an action packed sci-fi journey it has a lot of drama, twists and turns and questions to be answered. Alejandra's mind is a complex maze firing on all cylinders.
Did you have inspiration in developing the story?
Most of the idea came from my own wild imagination as far as I can remember. The story started out as a full length screenplay long before it was turned into a graphic novel series back in 2012. The concept was just way too big to get into productions without a studio budget to back it. I wanted the world to see it sooner than later and with the popularity of comics/graphic novels growing, we believed now would be a great time to make the switch from screenplay to graphic novel. Graphic novels and comics allow a writer more freedom, creation with no limits.
The only thing in the story that I sought inspiration for was the our heroine. My main focus with Alejandra was to bring back a strong but troubled female hero, with many layers to their personality that would keep her journey through the story interesting as she develops through so much trauma and pain. I was a huge fan of Ripley (Aliens) and Sarah Conner (Terminator) and I think these two characters gave me a lot of the inspiration needed to bring Alejandra to life and make her a deadly but lovable character. She is strong willed, brutal and born to fight but she also has that beauty and tranquility about her as well.
How did you assemble the team for the project?
We (Free Fall Productions Australia) began the series with our own work. I designed most of the pages myself first, by free hand drawing then we progressed with a more digital 3D style. We still weren't happy with our style, it didn't quite catch your eye. When looking through the market we noticed that our art work was nowhere near up to standards. They did however become great example pages to give the artist an idea of what we wanted. We scrapped what we had and went on the search. We were only new to the industry so did not have many contacts. We looked to Deviant art first and also a few facebook groups, which is where we found our colourist Kirsty Swan and then freelanced.com to find our illustrator/inker James Beihl. We looked at several artists before deciding and we believe we have found the perfect team to bring this amazing story to life.
What are your next steps for the project?
We will be heading into Crowd funding through IndieGoGo late Feb 2015. The idea is to raise the amount needed to pay our art team fairly to complete the rest of the book. If we raise the amount needed full production will begin and we are hoping to have the first book in the series ready by June or July 2015. Pre orders (through our website) for the book will begin half way through production. When the book is completed and published we will get more into promoting and start going to comic conventions and do whatever is needed to get the series out into the world.
Thanks so much for your time and I wish your all the best when you post up on IndieGoGo.
Posted: February 20th, 2015 under art, comic, Featured Artist.
Tags: AAH, Abandon All Hope, kickstarter, LA Keim