Betty Wicked by John Daniel Taylor IV
Link to Betty Wicked Kickstarter
Betty Wicked lives in a haunted house,her car is possessed, her cell phone is lost in another dimension and those are the good things!
Created and written by John Daniel Taylor IV with pencils provided by Juan Francisco Moyano. This project is current on Kickstarter. Support the project to make sure it gets funded. I was provided a copy to review by the creator (along with some of his time!) and it was definitely a fun read with an interesting premise and characters!
Cover :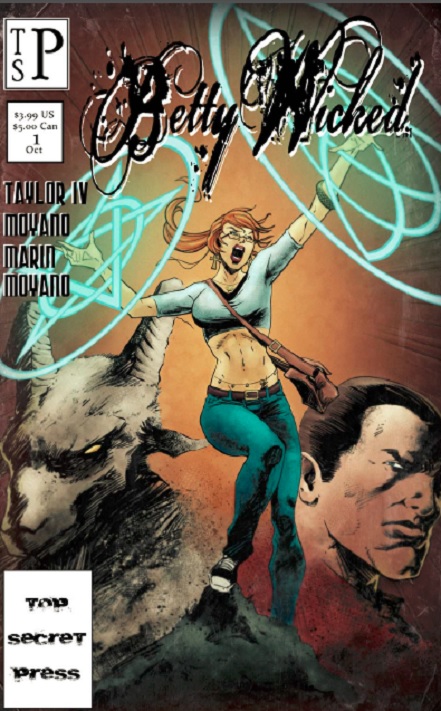 Sample Interior :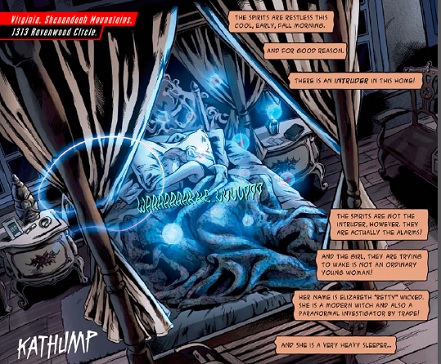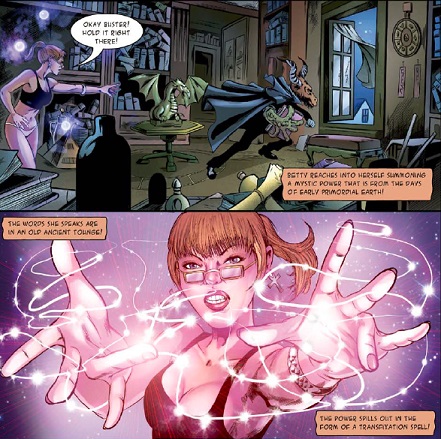 Thanks again for the preview copy and your time! I really enjoyed some of the horror references that you managed to get into the story.
What/Who was the inspiration for Betty?
I wanted a girl that acted real and modern at the same time. I like my characters to act real, so I wanted to create someone that acted that way. Betty hates bugs(even though she is not suppose to), but she cannot kill them. Also, she does not kill, she employs a nonviolent tactic to battles to incapacitate enemies. In other words, she can take care of herself.
How long was the writing process?
I originally wrote Betty as a backup character in 2004 for a webcomic called Frank Fletcher, Illiterate Psychic. Frank was a spinoff of another series I had running at the time too. Betty showed up in issue #2 and as I continued to write the comic, I found it was more about Betty and less about Frank. Eventually all of that was shelved, then about a year ago I went back through some of my old files and found the scripts to the old Frank stories. 3 months and a whole bunch of research later, I had a finished draft for Betty Wicked #1 and was ready to go. As far as the process, I am still making small adjustments to the script. The final will be different than you Review copy, but that is normal in this business.
How long and what steps did you take to get the project ready for kickstarter?
For the Betty Wicked Kickstarter, I planned months ahead. I can say this, the best tools for running a campaign is looking at other projects first. See what they are doing. See what they have to offer and see what you can offer. I have done a few of these, so I learned by trial and error. My first two Kickstarters were complete (unknown) failures. A lot of that was due to lack of publicity and not really understanding the business of running a kickstarter. You live you learn.
Good luck with your kickstarter campaign and really hope you get funded.
Posted: September 24th, 2014 under art, comic, Featured Artist, Writer.
Tags: Betty Wicked, John Daniel Taylor IV, Juan Francisco Moyano, kickstarter, project, review