Artwork Inked by Ernest Jocson
Ernest Joscson is a professional comic book inker from the Philippines who has worked in various companies including TopCow and Marvel. The below is a showcase of his inking work over some pencils. Especially like the inks over Stephen Splatt's Iron-Man, it really brings out the details.
Thor (pencils by David Finch)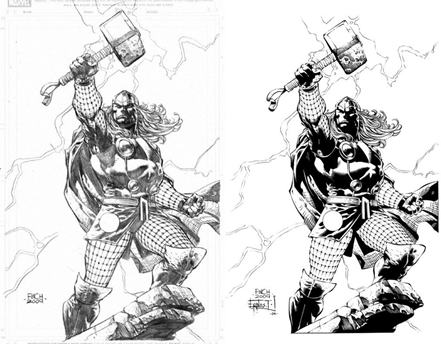 Magneto (pencils by David Finch)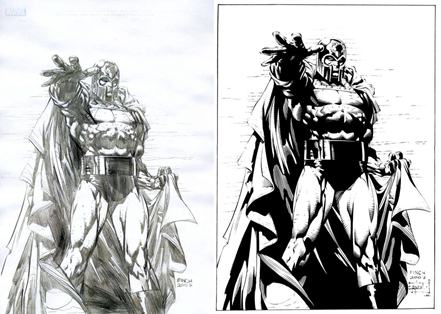 Black Widow (pencils by Huebert)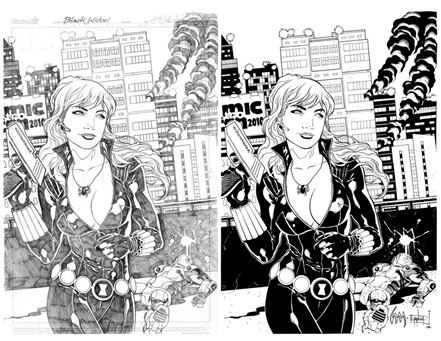 Harley Quinn (pencils by Michael Turner)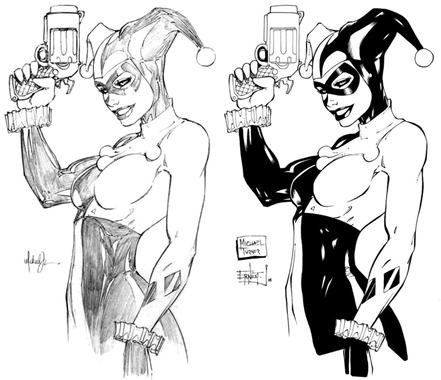 Mask of Gargoyle (pencils by Dario Carrasco Jr.)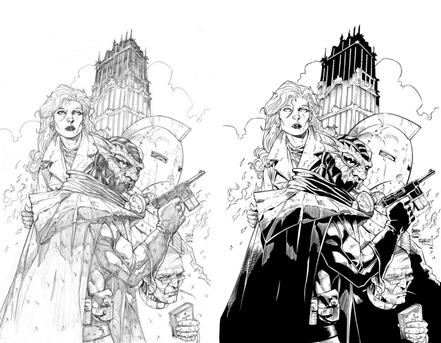 Iron-Man (pencils by Stephen Splatt)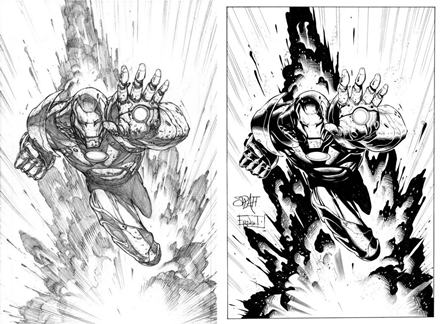 How did you start your career?

I began my career in inking when I was hired do to web comics for The Grad (online comics) from Dreamland Comics (1999). From there on another Indy comics from the states gave me a shot at Visuals Assault Comics as an inker. Soon after I establish myself as one of the prolific inker. I begun expanding my work and getting some attention from different Indy publisher in the states. Then I did some back-up inking on Chasity Re-Imagine (2001) from Chaos Comics and Emma Frost (issues 16-17) from Marvel Comics (2004) as a ghost inker.
That's fantastic to be get to ink a Marvel comic! Anyway please continue.
From that point on I was given an inking assignment from IDW which is re-lunching the title Maze Agency for 3 issues (2005). And another book came along in that same year which is Tokyo Knights from Top Cow. And I did another project from the same company which is M.I.T.H. Thru several of works came along and putting me as in one of the upcoming talents in inking. I also did Lego Exoforce (2006) (web comics / packaging / activity book) from Lego Company, Couplers (2006) (issues 1, 2, and 5) from Real Buzz Studios, Elemental Fources (2007) (issues 1-6) from New Baby Productions, Space Ace (2008) (issues 5-6) from MV Creations /Arcana Studio.
So what is your focus now?
Right now I'm still busy doing some gigs on inking and as well as commissions. I'm expanding my work I also do coloring for time to time and making a name out of it. I graduated with a Bachelor's Degree on Advertising and Public Relation from the Polytechnic University of the Philippines, Sta. Mesa branch.
How would you describe your artwork?

In style I just study different artist (inker), namely Scott Williams, Alex Garner, Danny Miki, John Dell and Batt. For inkers your main job is to enhance the page or capture the idea of the pencillers in their pages. Plus you must also study human anatomy, light and shadows, perspective and creating texture. Like I always said that inkers are the last line when deadline approaches. You sometimes will help the penciller to finished the book so you must know at least to draw something.
How did you start your skills in this?

Mostly I did self-taught before but when I discovered Whilce Portacio Comics Creation Course here in the Philippines around 1998. I attended there and I learn all the aspect in making comics.
Whose work do you like from a pencilling perspective?

Jim Lee, Whilce Portacio, Stephen Platt, Michael Turner, Carlos Pacheco, Ivan Reis and Howard Porter.
And from an inking perspective?
Scott Williams, D-Tron, Batt, Dick Giordano, John Dell, Jon Sibal, Joe Weems, Michael Bair, Danny Miki, Alex Garner and Terry Austin.
What do you enjoy outside of work?

I like Filipino dishes and some Chinese also. I like to play basketball before but now I don't have time for it. I like watching movies too especially comic book base movie and sci-fi also. I love watching NBA games and playing them thru PS3, PSP or in my computer.
Thanks for your time!
I'm sure we'll see more of your work in the future.
To see more of Ernest's work :
For commission information contact :
ernestj23 [at] gmail.com
Check out the Ernest works :
Back-up story on Cadre (Inker) from Niffty Comics.
The Grad (online comics) Inker from Dreamland Comics.
Vissual Assualt Comics (Inker).
Jade the Redemption (issues 3-4) ink assist from Chaos Comics.
Chasity (Re-Imagine) ink assist from Chaos Comics.
Krsytal Full Blown (online comics) Inker from Femme Fatale Studio.
Burn Soul (issue 1) Inker from Coscom Entertainment.
Emma Frost (issues 16-17) Ink Assist from Marvel Comics.
Tokyo Knights (one shot) Inker from Topcow Comics.
M.I.T.H (one shot) Ink Assist from Topcow Comics
Versus (issue 2 & cover #1) Inker from Hardcourt Archive.
Maze Agency (issues 1-2, 3 cover only) Inker from IDW.
Force of One (issue 1) Inker from Atlantis Studio.
Lego Exoforce (webcomics / packaging / activity book) Inker from Lego Company.
Couplers (issues 1, 2, 5 and covers) Inker from Realbuzz Studios
Elemental Fources (issues 1-6) Inker and Colorist from New Baby Production.
Space Ace (issues 5-6) Inker from MVCreations/Arcana Studio
Posted: January 20th, 2011 under art, comic, Featured Artist.
Tags: artwork, black widow, David Finch, ink, iron man, Magneto, Marvel DC, Mask of Gargoyle, Michael Turner, pencil, sigmate line
3 Responses to "Artwork Inked by Ernest Jocson"