Spying with Lana – Sean Harrington – Mysterious Brunette – 07
Firstly Merry Christmas all! Wishing you and your families all the best during this festive period. This is the penultimate page (with the last page to come on New Year's Eve). This is definitely the climax page (no pun intended) and there wasn't really that much to write as it was mainly action sequences. I love the way it turned out from Sean's work!
All completed pages will be collated in the below link :
http://sigmatestudio.com/spying-with-lana/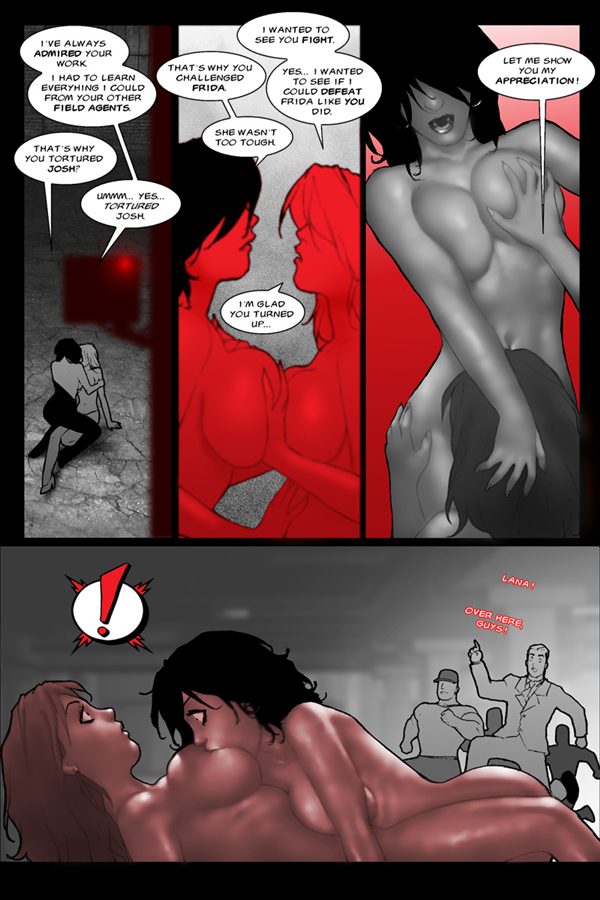 Synopsis :
Girl on Girl.
Rest of the agents turned up and catch Lana is a very compromising position.
Panel 1 – Top view again
MB – I've always admired your work.
I had to learn everything I could from your other field agents.
Lana – That's why you tortured Josh?
MB – Ummm . . yes . . tortured Josh.

CCTV is focused on the two of them.
Red dot still indicates recording.
Foreground Lana and MB almost naked with Lana on top.
Panel 2 –

MB – I've wanted to see you fight.
Lana – That's why you challenged Frida.
MB – Yes . . I wanted to see if I could defeat Frida like you did.
Lana – She wasn't too tough.
MB – I'm so glad you turned up. Let me show my appreciation . .
MB and Lana now both naked now.
Both feeling each other up.
Panel 3 –

This will be the big money panel.
Lana and MB in a very compromising position.
Panel 4 –
Chief, Doug and other agents rush in catching Lana and MB in a very sexy position.
Posted: December 25th, 2010 under art, comic, Featured Artist, Website, Writer.
Tags: artwork, christmas, holiday, merry christmas, Mysterious Brunette, sean harrington, sexy, sigmate line, spy, spying with lana, Xmas