Akuma by Norman Wong – Terrance Belgrad
Freelance comic book colorist and digital painter Norman Wong is showcasing his amazing work on an Akuma over pencils by Terrence Belgrad.
Completed Akuma Coloured :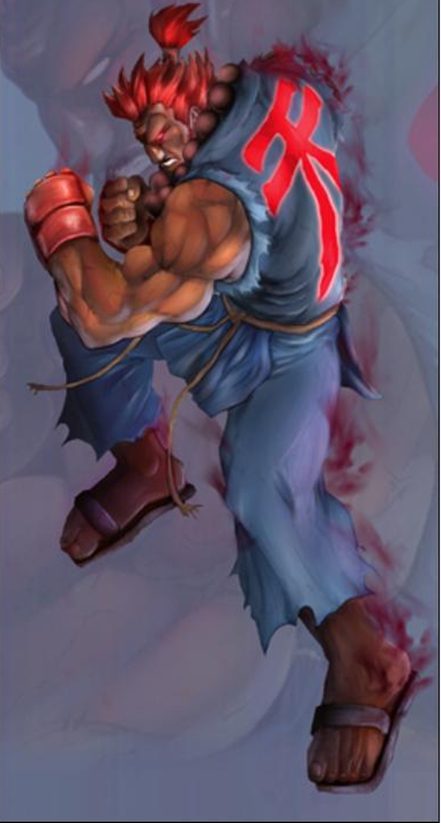 Colouring Process :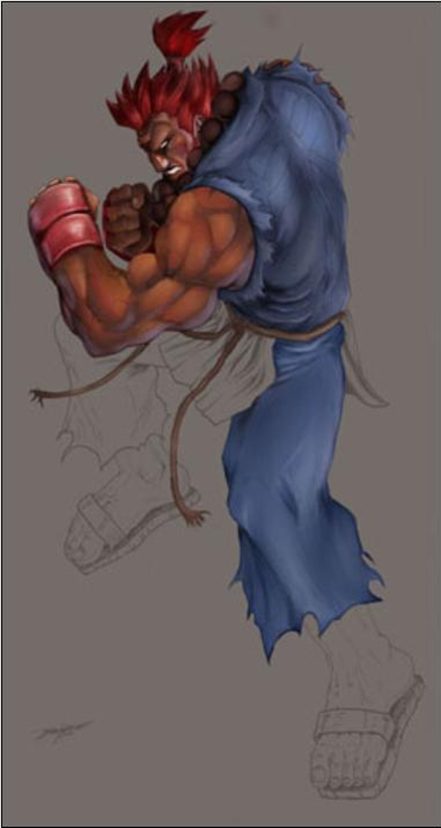 Sketch by Terrence Belgard :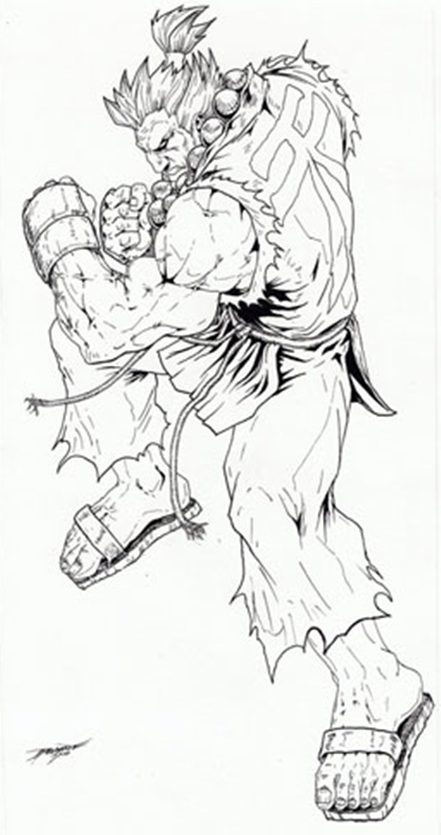 What do you enjoy about being a colourist?
As a Colourist, I really like painting digitally. I like to visually comparing & contrasting the various creative styles and techniques and there are sooooooo many great artists out there. It's fun when I can learn a new technique or a set of new brushes that's can step up my skills. I'm working with Painter X right now and I have to say that I really like how this program brings out so many rich and organic colors to my artwork.
Also another thing I like to do is reading tutorials and learning how other artist creates their artwork. Sometimes that really saves me a lot of time in trying to test and see what works and what doesn't. For example, the magazine Imaginefx has some really great video tutorials. I highly recommend it to artists.
Anything you dislike about colouring?

What I dislike is being trapped in doing the same coloring style over and over again because it's worked well in the past. Although it works, being stuck in that comfort zone rather than experimenting with something new; it's not very challenging. For fun I like to play video games, movies, and just spending time outdoors doing some photography. All of this just trains my eyes to observe the environments, it's mood, shadows, and lighting.
How would you describe your artwork?

I would describe my artwork as organic with a lot of energy. I like to use a lot of different color blends instead of coloring with only just a few colors from a narrow color pallet. This makes the artwork really pop and look dynamic. I get to play around with multiple light sources and blend them to reflect off characters. I'm trying to include more bright colors and lighting blends into my artwork to bring more life and energy the character.
Did you attend any art school?

I've attended the Academy of Art College in San Francisco for a few semesters in 3D modeling, but majority of my art skills is self taught. I definitely have to say that school gave me the basic fundamentals but the out-of- school work is even more important because you really have to be disciplined and practice all of the time to polish your craft.
Is there any artists that you look up to?

I really like a group of artists from a group called the Udon Crew. I have to give these guys credit.They do a lot of stunning action style artwork for Capcom and their artists are just really at the top of their game (creatively). Also, as many you may know him as Artgerm on deviantart, Artist, Stanley Lau, does some incredible digital artwork. I got a chance to meet all of them at SD comic con and that was a great experience.
Where can we see some your published work?
I have published works with Stormbringers.com which is written by Korby Marks as well as cover artwork for Mastorism.com written by Matthew Grant where I did the cover coloring for issues 3,4,5, and their TPB issue.

Any words to aspiring artists reading?

I just want to encourage every aspiring artist out there to keep on designing and join up with creative groups to work on projects. This will really help you grow and give you that creative support. Also go to as much comic book conventions as you can and talk to as many artist as you can. You never know if the next person you meet at a Con could be an open door for you. Also the feedback that you from the pros in the field absorb as much of it as possible.

Check out more his work from his deviantart page :
http://www.normanwong.deviantart.com
Posted: October 7th, 2010 under art, comic, Featured Artist.
Tags: Akuma, artwork, II, III, IV, Ryu, sketch, Street Fight
5 Responses to "Akuma by Norman Wong – Terrance Belgrad"