Zombies versus Cheerleaders
Zombie vs Cheerleaders is anthology featuring stories by different creators every issue. It is currently on a bi-monthly schedule and can be ordered from April 2010 Previews (Diamond). I read through a preview copy and it was hilarious. Combine some teen angst, cute cheerleaders and oh . . a zombie invasion and it's a very interesting formula! It's short stories and definitely a lot of fun, not to mention sensational pin-ups.
Cover :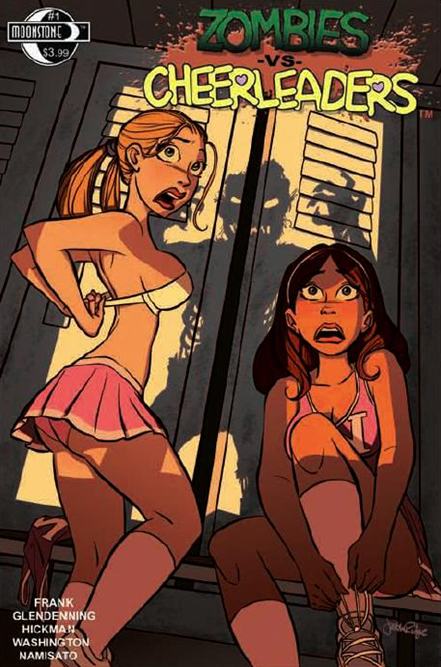 Alternate Cover :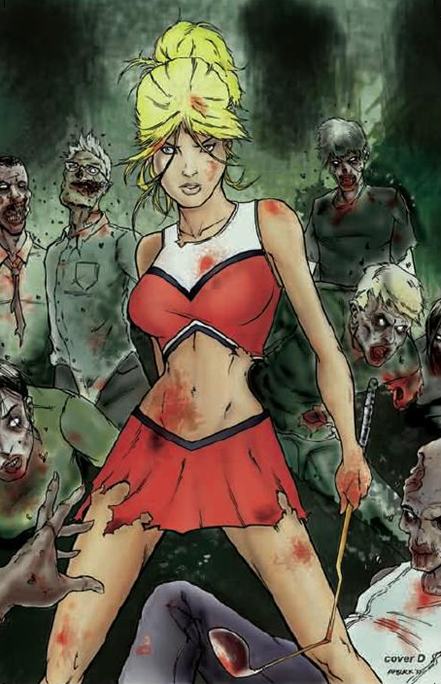 Sample Interior :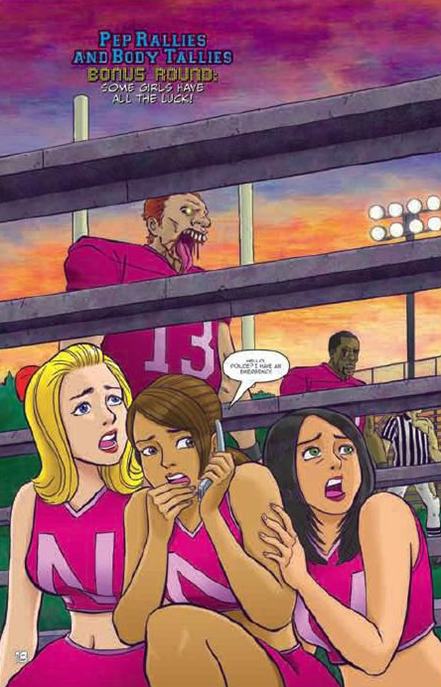 I managed to get creator Steve Frank to answer a few questions.
What started you on this project?
We released the Zombies vs Cheerleaders sketch card series in December of last year to rave reviews. Collectors wanted to see more, but we were not ready to release another full blown sketch card release so quickly. We have a nice relationship with Moonstone (we released Moonstone Maximum, a sketch card series featuring many of the characters Moonstone publishes, like The Phantom and Buckaroo Banzai, at the same time as ZvC), so we decided to do a comic book and to release a limited amount of sketch cards with each comic issue as ordering incentives. So, 5FINITY produces the book and Moonstone publishes it.
Who have got you involved in this project?
The only commonality is I will write at least one story for each issue, but many different creators will collaborate. Rich Koslowski is bringing his popular The 3 Geeks characters to our second release, ZvC: Geektacular #1, for example. ZvC #1 features a different artist for each chapter, as well as different artists for the covers and interior pin-ups.
I would like to know a little about your company. How did 5FINITY start?
We started 5FINITY last summer to produce two officially licensed sketch card series to benefit March of Dimes, Archie Comics and Greatest American Hero, respectively. These two releases did very well, so we decided to start producing sketch cards mainstream and we have had a ton of success ever since. All of our projects sell out quickly (knock on wood) and we have received kudos in the industry. We did what no one else has done, provide one sketch card per pack. You get fantastic quality at an extreme value, plus we do cards of niche, cult favorites that have not had trading card treatment in years, if ever.
Thanks for your time and good luck with ZVC.
It was a brilliant read.
Zombie vs Cheerleaders is scheduled for a June 2010 release with 4 different covers! Make sure you ask your local comic shop to order copies. It was solicited in Previews (April 2010). 5FINITY direct buyers will get the comic and the tie-in sketch cards in early May.
More info can be found at :
Posted: May 12th, 2010 under art, comic, Featured Artist.
Tags: 5Finity, artist, blood, brains, Buffy, Cheerleaders, sexy, Zombies
2 Responses to "Zombies versus Cheerleaders"