Spider-Man – Avengers by Guile Blackpanther
Featured artist Guile (a.k.a. SpiderGuile) from France draws the most amazing Spider-Man (and friends). The below showcases of his work really speaks for themselves. The pieces are all very dynamic and could easily make a fantastic poster if enlarged.
Spider-Man splash :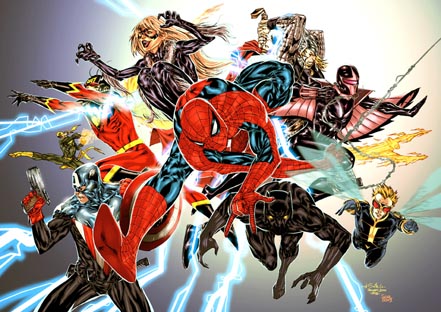 New Avengers :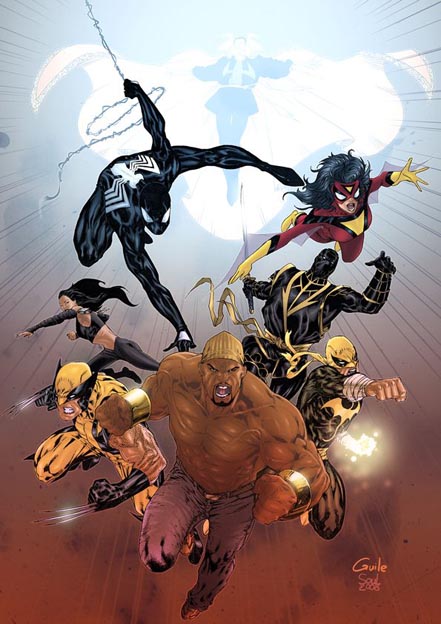 Spider-Man Sketch :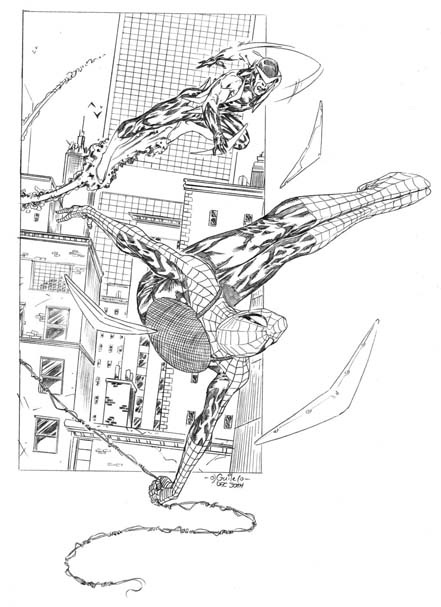 Firstly a question about you. What do you like besides drawing?
I like hanging with friends talking about everything or nothing at all, I like music a lot! I need it, I listen to hip hop, trip hop, soulful house music, electro, drum and bass, acid jazz, nu soul and some funk!
How would you describe your artwork?
I can't describe my own artwork, I'd just say that my style changed because of the different influences I have been exposed to. It's a mix between american realistic comicbook art and european classic style! I think so.
Who would you consider as influeces on your art?
I'd say that, these days, the two big influences in my art, are Leinil Yu and Olivier Coipel. After that guys like Stuart Immonen, Mike Mignola, John Buscema, Joe Bennett, Jim Cheung, or maybe Jason Pearson have always had a big impact on me.
What are some of things you have worked in?
I did work on a lot of fanzines, some advertising gigs and even some designs for some underground comicbook projects. Right now, I work as freelance artist in the videogames industry (Check out the upcoming RED STEEL 2 on WII, I designed some of the bad guys in it) I am still trying to break in the comicbook industry and work also on my creator owned project on my spare time!
I'm sure your opportunity to break into the comic industry is around the corner! Your work is fantastic. Thanks for your time.
For more of his work check out :
http://spiderguile.deviantart.com/
Commission information is available :
http://www.comicartfans.com/gallerydetail.asp?gcat=4997
Posted: March 23rd, 2010 under art, comic, Featured Artist.
Tags: Avengers, Black Cat, spider-man, wolverine
5 Responses to "Spider-Man – Avengers by Guile Blackpanther"