Comicartcommunity by Terry Maltos
Comicartcommunity is a fantastic resource website for anyone interested in comic art. I had the opportunity to discuss with the founder Terry Maltos, on his site and the impact to the comic art artists.
When did you start up comicartcommunity?
Summer of 2003 if I'm not mistaken. I *think* we're 6 years old.
Did you start the site by yourself or are they are any other founders? Why was the motivation for starting up?
Well, the initial founder is and has always been *me*. Terry Maltos. I started the site to offer Comic Art Auctions. An alternative to FEEbay. That went well for a time but eventually faded out because the Gallery Of Comic Art was the spot getting all of the traffic. So instead of being an Auctions site like we once were, we're primarily a comic art images gallery now.
So what are your future plans?
Ah, the future. Well, I hope to have a flying car. If I can get a flying car, I think I would be ok. If not – a joy ride in outer space would be cool. I'd love to look down on the earth from above in some luxury space shuttle.
Haha . . that's cool and all but . . .
Wait – do you mean… The web sites? The sites I'd love to watch evolve as they will. I want to continue representing my friend Al Rio and watching him draw. Here's a sample of A Rio's work.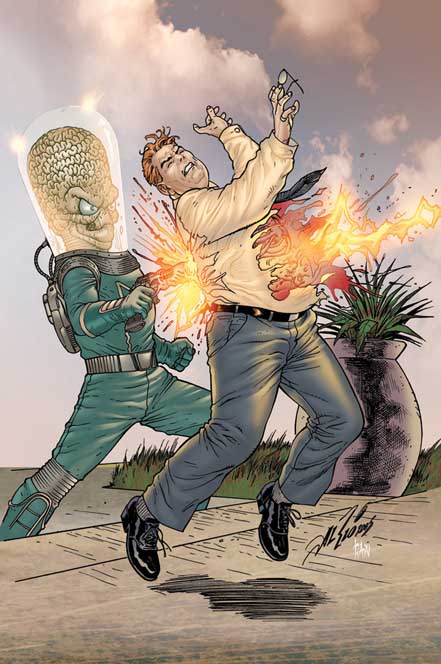 I also want to reach a million images at the Gallery Of Comic Art – but we're only at 34,225 now and that has taken 6 years … I would hope to see Comic Art Commissions become "the" go-to place for artists and buyers. I also hope to somehow make some money doing all of this. Right now, it's all *costing* me greatly.
How does it feel supporting the artist community?
Since I'm so into art, it's great. This is like a hobby to me. I love *comic art* in particular because of the characters and creativity. I'm always a big fan of people with talent. So it's my pleasure to be serving the artist community.
Thanks for your time Terry!
Link to comicartcommunity :
Check out Terry's various sites :
Posted: October 7th, 2009 under art, comic, Website.
Tags: comicartcommunity, terry maltos
3 Responses to "Comicartcommunity by Terry Maltos"