Flare by Keith Dotson
Artist and musician Keith Dotson is showcasing an impressive Flare final and sketch. He's done work for a variety of small-press companies including illustrating a feature in Scary Monsters Magazine (circulation around 10,000 at the time) and Femforce from AC Comics. More of his work can be seen in a set of sketch cards for Archie & Catastrophic comics (Greatest American Hero) for the March of Dimes as well as an issue of Pitt (#17).
Final :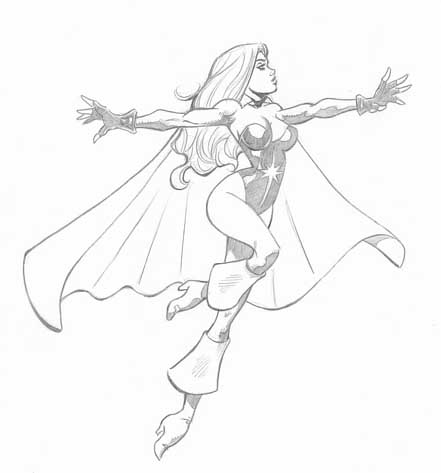 Sketch :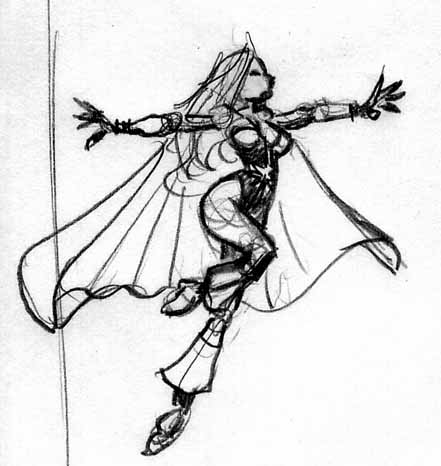 Wow . . your work has appeared in a lot of places. What other work have you done?
Other things I've done also include columns for Comics Avalance and the Pulse (www.comicon.com/pulse) and I've self-published several sketchbooks and comics.
You've also mentioned you were a musician.
Are you in any bands?
As a musician I've played in multiple bands and am currently working on a cd of original music.
How would you describe your artwork?
It's a strange thing, most of the artists I like are sketchy with an emphasis of thick to thin line work, mostly inked by crowquill. My art, on the other hand is clean, with a fairly thick holding line. When I ink, I usually use a brush. Sketches are pretty easy and usually fun to do. I can usually tell what the client wants pretty quickly and the job is more enjoyable in those cases. To my eye, my sequential stuff looks like a cross between Adam Hughes, J. Scott Campbell and a Top Cow style. Perhaps not as accomplished as those artists but those are the influences I can see. I've been told that my stuff reminds people of Steve Rude a little bit, who I like, but I don't consider him an influence and I really don't see it. I try to work in different styles on sketches depending on the character. Photo-real, cartoony, illustrative, pin-up, etc.
How did you get started into art?
Lots of books, instructional DVDs, talking to other artists and editors (which can be a bad thing in a way because its all opinions. Art needs to be fun and people can give you complexes very easily. You need to be comfortable in your own skin.) I also started a correspondance course from Kubert's but have yet to complete it.
It looks like you're really studying your craft. Any books / DVDs you can recommend for an aspiring artist?
Here's a few I can recommend.
Brigman "Complete guide to drawing from life" (I don't recommend Hogarth for anatomy)
How to draw comics the Marvel way (the DVD is GREAT! Essential stuff.)
Comic book pencilling with David Finch
Comic book pencilling with Stephen Platt (These two have contrasting approaches. The Finch follows the Jim Lee/Top Cow approach of working the drawing up on the page. The SPlatt DVD demonstrates the method of blowing up the thumbnail to page size and lightboxing it. Neal Adams & Steve McNiven are a couple of artists that work this way.)
Wizard's how to draw column collections
Neal Adams "The sketchbook" (Vanguard Press)
Thanks for your time.
I really liked your sketch piece of Flare. I'm sure we'll see more of your work pop up from place to place.

For more on Kieth Dotson check out :
Posted: September 16th, 2009 under art, comic, Featured Artist.
Tags: artist, flare, keith dotson
5 Responses to "Flare by Keith Dotson"