American Samoa
American Samoa is one of the smaller Pacific Islands with a population of approx. 68,000. Although adopting a lot of American culture, it wasn't particularly touristy or developed which is perfect for those seeking a peaceful adventure. With the main source of income derived from exporting tuna, it also boasts the freshest sashimi.
A single beach umbrella in Western Samoa.
It's hard to believe how blue the water was.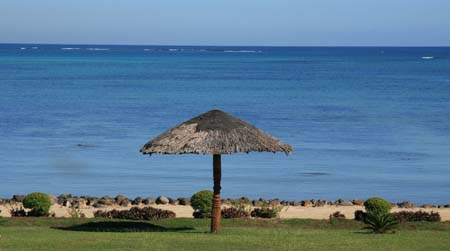 The main road skirts around the island with small pockets of houses and shops. I like the way the clouds seem to roll across the island.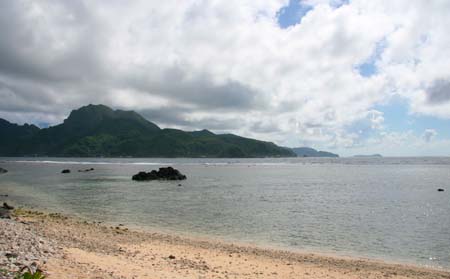 A small rock formation called "Fatamafuti". It really seems to exist by itself out in the ocean. If you look carefully there is an odd resemblance to a face.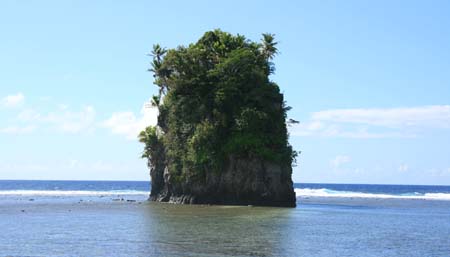 Rain clouds building up over the hills past the airport.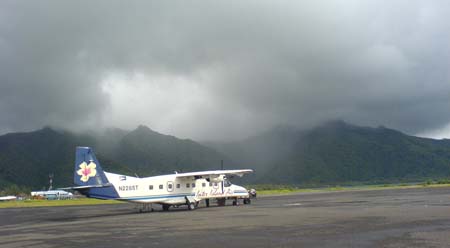 The weather in American Samoa was very erratic, bright sunshine one second and heavy downpour the next. The humidity can be stifling but nothing a cool swim can't cure. Leaving in a small twin prop, gave the final chance to look at this tropical island from the sky.
Update 25-Nov-08 :
Changed name of rock outcrop to Fatamafuti.
Posted: November 21st, 2008 under Photography, Places.

3 Responses to "American Samoa"